Holidays on a working farm
in the Kronplatz holiday region, on Bartlmair Farm in St. Georgen near Bruneck
If you're looking for a relaxing family holiday on a working farm in Bruneck, right in the heart of the Kronplatz holiday region, then Bartlmair Farm is the perfect place to come!
Surrounded by nature, Bartlmair Farm is located on the edge of St. Georgen, just a few kilometres distant from Bruneck – home of renaissance artist Michael Pacher.
Prices for our holiday apartments
Season
Base price for up to 2 persons per day *
Each additional person per day *
Low season
starting from 70,00 Euro
15,00 Euro
Mid season
starting from 80,00 Euro
15,00 Euro
High season
starting from 96,00 Euro
17,00 Euro
The prices are stated in Euro per day and apartment, for a minimum stay of 4 nights, plus visitor's tax. The price includes electricity, water, heating, bed linen, towels, internet via W-Lan and final cleaning.
* Daily rate for a minimum stay of 4 nights.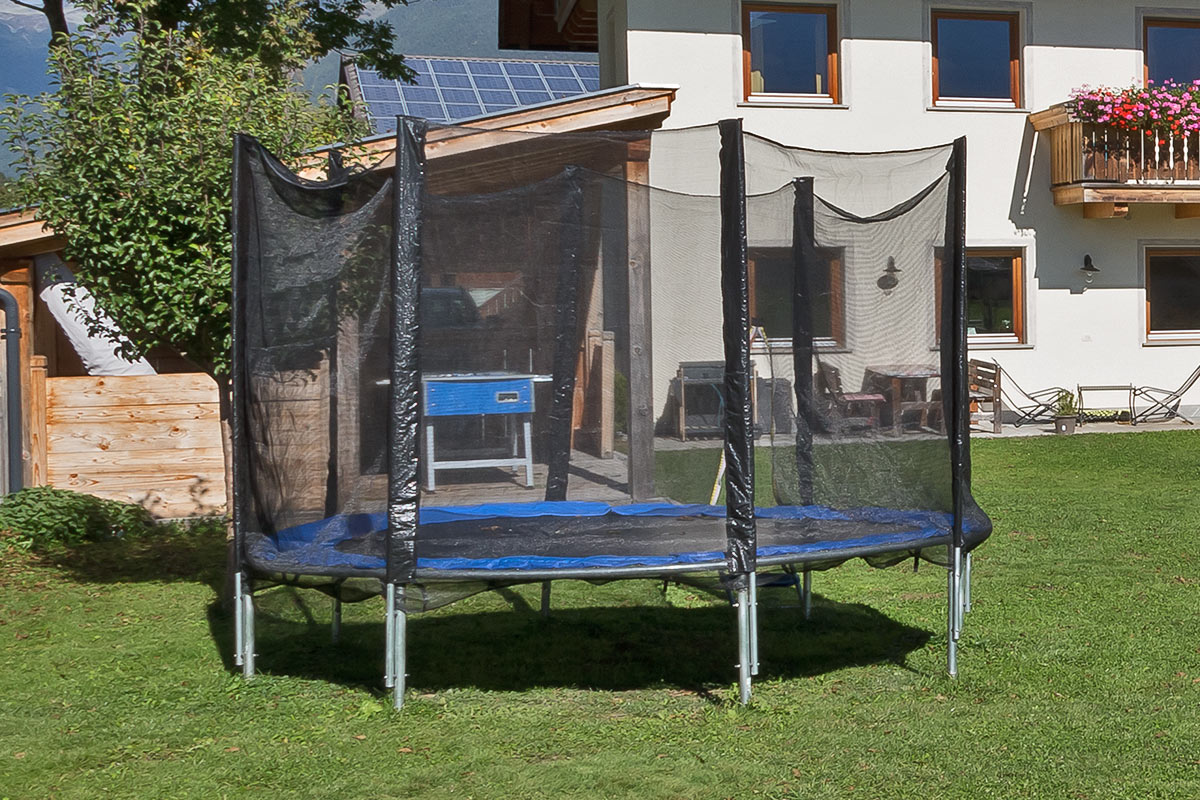 Holiday packages on Bartlmair Farm:
• Free guest holiday pass (learn more)
• Bus stop for ski shuttle / public buses is located just 300 metres from our farm
• Wide range of winter and summer activities available in the Kronplatz skiing and hiking region
• Large garden with play area and barbecue area
• Lots of animals on the farm: dairy cows, calves, kittens, rabbits, hens and goats
• Small farm library where you can borrow walking guides, novels, board games and children's jigsaw puzzles free of charge
• Fresh farm products such as fresh milk, eggs from happy hens, fresh herbs, jams, herb-infused salts, fruit juices
• Concessions on entry prices to the open-air swimming pool Bruneck, to the CRON4 indoor fun pool and the CRON4 sauna in Reischach (learn more)
• Pick-up service from the bus stop or Bruneck train station
• Sheltered parking spaces
• Ski storage with heated ski shoe dryer
Useful information
Arrival & departure
Your apartment will be ready for you from 2pm on your day of arrival.
On your day of departure, we request that you vacate the apartment by 10am.
Please inform us briefly by telephone if you will be arriving after 6pm.
Cancellation policy – for when things suddenly don't go to plan…
If you cancel your stay 30 or more days prior to arrival, your deposit will be retained as a cancellation fee. If you cancel your stay 29-15 days before arrival, we will invoice you for 30% of the total price. If you cancel your stay 14-7 days before arrival, we'll charge you 45%; cancellations made 6-1 days before arrival will be charged at 80% of the total price. Non-arrivals, late arrivals and early departures will be charged 100% of the total price. The above percentages refer to the total price for the apartment you booked.
Place of jurisdiction is Bolzano.
Cancellation insurance
To avoid unnecessary costs, we recommend you take out European Travel Insurance:
Europäischen Reiseversicherung ↗
Deposit (booking confirmation)
Please note: we will confirm your booking by sending you a booking confirmation as soon as we receive your deposit of € 100.00. Please contact us via email for more information and for our bank account details.
Internet
You can access the internet free of charge via our Wi-Fi.
No-smoking policy
Smoking is not permitted in the building. Please smoke only on your balcony or outside.
Parking
There is a sheltered parking area on Bartlmair Farm where guests can park free of charge.
Payment
We accept cash up to a total of € 999.00; higher amounts must be paid by bank transfer. Please settle your account with us on the day before your departure.
Pets
Pets are permitted on Bartlmair Farm by prior arrangement. Please note that pets are not permitted to enter the communal lounge area.
Prices
All prices are listed in euros, as the price per day in the respective holiday apartment, based on a minimum stay of 4 nights. The prices do not include the local tourist tax. The listed price includes electricity, water, heating, bed linen, towels, Wi-Fi and cleaning on departure.
Ski storage room
During the winter months, Bartlmair Farm has its own ski storage room with heated ski shoe dryer.
Tourist tax
As of 1st January 2014, South Tyrol charges a tourist tax (local tourist tax, Prov. Law no. 9 dated 16-05-2012). The revenue from this tax is used to expand and maintain infrastructures and services and to organise cultural and sports events. The tourist tax is charged at € 1.35 per person (aged 14 years or above) per day.
Waste disposal
We request that you sort your waste. On the farm premises, you'll find separate bins for glass, paper/cardboard, plastic, metal, organic waste and residual waste. If you don't dispose of your household waste before you leave, we reserve the right to charge an extra € 20.00 cleaning fee.
Online settlement of consumer claims in accordance with EU Regulation no. 524/2013
European Council web platform for online settlement of consumer claims (ODR) – Submit your online consumer problem to an authorised dispute resolution service at: https://ec.europa.eu/consumers/odr/ ↗